SENIOR ADULTS
---
"Barranco antiguo"
Esta nueva manera de visitar el museo llevará a sus visitantes a través de los jardines y las salas de exposición más importantes para conversar sobre el contexto en el que se formó la colección de Pedro de Osma Gildemeister: la transformación de Barranco a inicios del siglo XX. Al dialogar sobre el tranvía, los vitrales y las fiestas de carnaval no sólo evocaremos recuerdos sobre nuestra propias vivencias sino que identificaremos la vigencia del pasado en el presente.
El recorrido finaliza con un taller al aire libre en el que los visitantes crearán manualmente una obra que refleje experiencias e inquietudes propias a partir de un cita literaria de un autor barranquino del siglo XX.
Este programa educativo busca el diálogo intergeneracional entre visitantes y guías del museo e incluye algunas actividades lúdicas.
Si quieres conocer los costos y el contacto para reservas de visitas ingresa al menú aquí: "Información y reservas"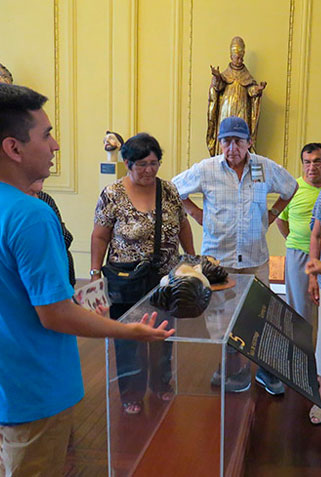 VISIT US
---

  Opening Hours
      Open: Tuesday to Sunday from 10 a.m. to 6 p.m.
      Closed: Mondays, Good Friday, January 1st, May 1st,
      and December 24th, 25th and 31st.  

  Admission
      Peruvians and Residents visitors:
      General: s/ 20
      Students (ID) and seniors (+60): s/ 10
      First Sunday of the month: s/ 5
      Double Ticket (OSMA + MATE): s/ 24
      Triple Ticket (OSMA + MATE + MAC): s/ 32

      Foreign visitors:
      General: s/ 30
      Students (ID) and seniors (+60): s/ 15
      Double Ticket (OSMA + MATE): s/ 44
      Triple Ticket (OSMA + MATE + MAC): s/ 60

      *Free admission for children up to 11 years old.
      **Double and Triple Tickets are not sold on Wednesdays nor Sundays.
---

   Guided Tours
       Guided tours included in your ticket, available in english and spanish
       at 10:50 am, 12:00 p.m., 2:20 p.m., 3:30 p.m. y 4:40 pm.
       *Attention in order of arrival, capacity of 15 people per group.

  Address
      The Pedro de Osma Museum is located at the heart of the cultural
      district of Barranco in Lima, Peru:
      421 Pedro de Osma Ave., 15063
      Lima - Peru
GETTING HERE
---

  On foot
      The Museum is located 4 blocks from the Barranco's Main Square.
      Find the best route here, HERE.

  Taxi or car (free parking)
      The Museum is 15 minutes away from Miraflores, 30 minutes from
      Downtown Lima and 60 minutes from the Airport. 
---

  Bus
      The bus stop is located 1 block from the museum. Bus lines
      to get here: 7103, 7501, 7606 and 8516.

  Metropolitano
      The «Estadio Unión» Station of the Metropolitano is located 4 
      blocks from the museu. Find the route, HERE,